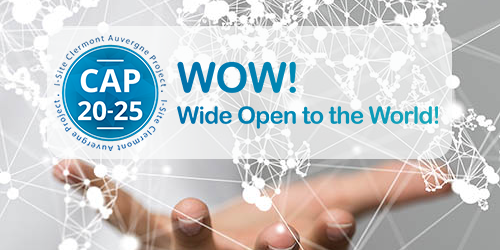 The WOW! Program "Wide Open to the World!" is developing and applying international strategy of I-Site CAP 20-25 project. In the CAP 20-25 project for the 2017-2021 period, this strategy is "based on a set of incoming and outgoing measures and international projects, and on establishing networks, alliances and international laboratories", related to the main theme of "new models for sustainable living and production".
This strategy is implemented through the definition of specific tools (via the call for projects) to promote attractiveness and influence of the higher education and research of Clermont Auvergne site. For each one of the calls for projects, the Steering Committee defines the articulation of actions with the scientific Challenges and others transversal programs, the selection criteria, calendar, procedures, mode of diffusion and the budget.
In addition, the WOW! Program has identified in a roadmap some deliverables for the promotion of internationalisation of the University. These deliverables focus mainly on collaboration with target geographic areas, development of international laboratories, coordination of networks and alliances, as well as the strategies of the challenges.
All the call for projects for the WOW ! Program are closed for 2021. Those calls won't be renewed in 2022. For more information about the new international strategy and the WOW 2.0 Program, visit the webpage International 2022-2027.
Objectives of the WOW! program activities::
Making UCA an international university (from our community, the national and international partners' point of view),
Internationalizing Research and Innovation together with the CAP 20-25 scientific challenges and in relation with the concept of new models for sustainable living and production,
Internationalizing education programs by better integrating training/research partnerships,
Developing strategical Partnerships with Universities of excellence,
Developing outgoing mobility of students, teachers/researchers and all members of the community,
Improving incoming mobility and welcoming strategy,
Developing internal and external communication (by leading a political and functional network, and by creating and supporting projects).
CONTACT
Marie Le Duc, in charge of the international dimension - CAP 20-25 Project
Email: marie.le_duc@uca.fr
Phone: +33 4.73.17.72.39